I'll give you a warning: This topic offers enough space to fill whole books, so I just have to cut at some places. If I will make my own contribution out of it, we will see then.
shadow parkers are excluded! Clearly, because a SP has the shadow as its natural mortal enemy. But sun parkers do not have to do without a pleasant indoor climate. Good insulation is already half the battle. (You guessed it? There will be a contribution to this)

Now we still stick to the so called shading. This has a great influence on the whole SP if only a tiny piece of the solar panel is shaded. Well then I will just take 2, 3 or even more panels. Yes, ok and that is without alternative in my case because of the hunger for electricity but how do I connect them? In row or parallel? Unfortunately there is only one correct answer…

short: A solar panel consists of several cells. Each cell produces 0.5V and these are usually connected in series of 36 pieces, so that you get a total voltage of 18V. Keyword light chain! If one cell fails, the whole panel fails. Luckily there are diodes in the panel to prevent this but still the voltage is halved. 🙁

So there should be several panels:

The serial circuit:

The panels are connected as follows:
Advantages
Simple cabling
smaller cable cross sections
More power
Shading is better compensated
Disadvantages
Only identical modules in a chain (current intensity)
increasing voltage means higher safety measures (contact safety)
The solar controllers are more expensive the more input voltage is allowed
MPPT controller more efficient but more expensive
Ok then rather parallel?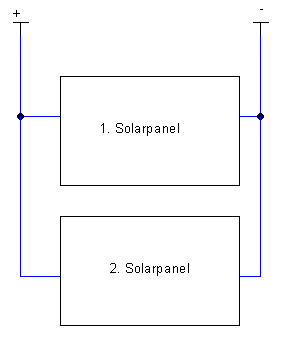 Advantages
The performance of the modules can be different
Mobile modules can be added if the voltage is equal
no problems with PWM controllers
Disadvantages
Cabling more complicated
thicker cable cross sections necessary
Losses in shading per string higher
And what is better now? This question can only be answered by yourself and in the end it is certainly also a budget question. Who, like me, has to pay a lot of attention to the budget, will probably prefer parallel connection. Especially if only 2 panels are planned. With 4 and more panels, a combination can also be effective.

I am currently planning to use 4pk 100 Watt panels and the combined circuit, i.e. 2 parallel and 2 serial. The whole thing is connected to a PWM solar controller and 2-3pcs 200Ah AGM batteries. Of course I would also prefer LiFeYPo batteries but the weight is irrelevant for my planning and the higher efficiency is unfortunately not outweighed by the price. However, this may still change, because building a 300-400 Ah battery by myself is still an idea in my head.

What is the conclusion now? Actually there is none. At least no generally valid one. If you don't have to pay attention to the money, you should connect high quality 72 cell modules in series (serial) and use lithium batteries with a high quality MPPT regulator.

Whoever chooses the cheapest way is more likely to get 36 cell modules connected in parallel via a PWM controller to supply conventional AGM batteries.

And the most important decision criterion is and remains How much electricity do I consume per day and how much of it I have to recharge per day. In the end, the battery decides how long I can stand independently, because if it snows for a week in winter, the SP supplies an estimated 0 electricity.

.